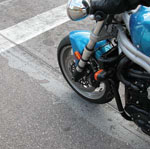 If you are riding a motorcycle and can identify the loop by the cuts in the pavement, stop near the loop cuts. Remember, the weakest area of detection for a traditional rectangular loop detector is the center area.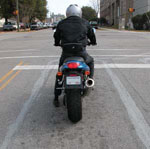 Don't stop in the middle of the loop.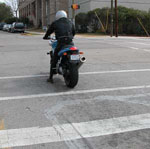 Stop your vehicle at the stop bar. Do not pull past the stop bar or into the crosswalk as shown above. Remember, the loop detector is in the pavement behind the stop bar.