---
How do you drive a roundabout?
There are a few key points to remember when driving a roundabout:
Yield to other drivers within the roundabout. For multilane RBTs, you must yield to BOTH lanes of circulating traffic
Do not change lanes or pass others.
Do not stop within the roundabout.
Avoid driving next to large trucks.
Use your turn signal before exiting the roundabout.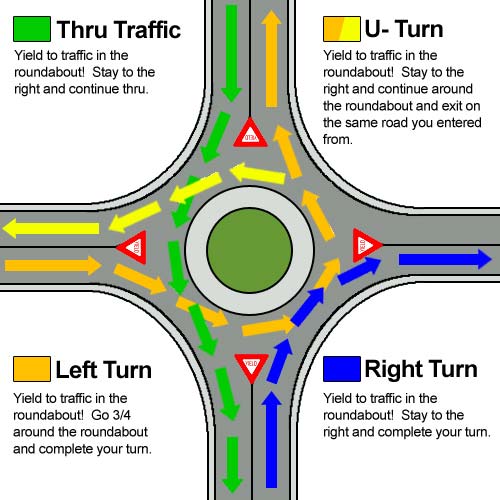 This video does not have audio.
SLOW DOWN

when approaching a roundabout.

SELECT

the correct lane. For multi-lane roundabouts, stay left if you intend to make a left or u-turn.

WATCH

for pedestrians in the crosswalk.

WATCH

for bicyclists and allow them to merge into the entry lane.

YIELD

to traffic already in the roundabout.

MERGE

into the traffic flow when it is safe.

DO NOT STOP

in the roundabout except to avoid a collision. Continue through the roundabout until you reach your exit.

DO NOT PASS

other vehicles. Maintain a slow speed through the roundabout.

EXIT

the roundabout immediately if an emergency vehicle approaches, and then pull over.

YIELD

to pedestrians and bicyclists when exiting the roundabout.
ALWAYS USE CROSSWALKS.

Cross only at crosswalks, and always stay on the designated walkways.

NEVER

cross to the central island.

USE PEDESTRIAN REFUGE

in the splitter island. It allows you to cross the roundabout one approach at a time and check for approaching traffic.

BE SAFE.

Only cross when drivers see you and stop for you, or wait until there is an adequate gap.
RIDE LIKE A CAR.

If you are comfortable riding in traffic, follow the same rules as vehicles and yield when entering the roundabout.

WALK LIKE A PEDESTRIAN.

If you are uncomfortable riding in traffic, walk you bicycle as a pedestrian on the sidewalk and in the crosswalks.