---
In order to provide access to the adjacent proposed Carolina Panther development and surrounding area, the South Carolina Department of Transportation (SCDOT) is constructing a new full access interstate interchange on I-77 near mile marker 81 in York County. This new interchange is approximately 1 mile south of US 21 Bypass/Cherry Rd (Exit 82) and 1.5 miles north of SC 122/Dave Lyle Blvd (Exit 79).
The proposed interchange will provide access from I-77 to a new location boulevard named One Carolina Drive that will provide a connection to Mt. Gallant Road to the west, Paragon Way / Cel River Road to the east, and Eden Terrace to the North.
---
Project Location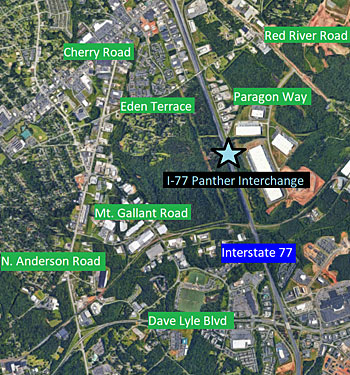 Project Viewer
Project Milestones
January 2021 – Design-Build Contract Awarded
Fall 2021 – Final Design Completed
Fall 2021 – Begin Construction
June 30, 2024 – Substantial Project Completion
---
Should you have any questions or need further information, please contact SCDOT Resident Construction Engineer Jared Bragg at (803) 324-3545 or at BraggJK@scdot.org.
Project Contacts
Jared Bragg, PE
SCDOT Resident Construction Engineer
Lead Contractor: United Infrastructure Group / Blythe Development Joint Venture
Lead Designer: KCI Technologies